Entries from September 2008
September 14th, 2008 by Geeky Swedes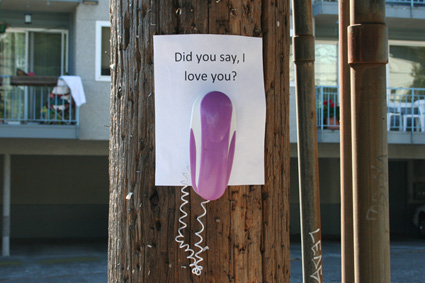 Seen at the corner of 45th and Evaston. Any guesses?
September 12th, 2008 by Geeky Swedes
This morning members of the Fremont Arts Council began scrubbing and touching up parts of the mural under the Aurora Bridge on 38th St.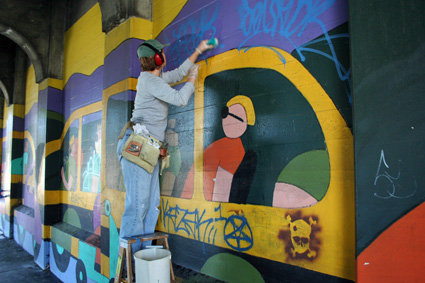 Graffiti, grease and dirt are scattered along the mural under the bridge. Cleaning supplies and paint were donated by Daly's Paint.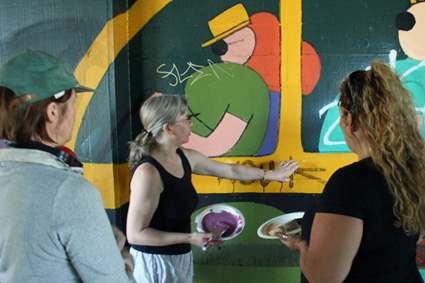 Volunteers will return over the next few days to finish up the job.
September 11th, 2008 by Geeky Swedes
The final outdoor movie of the season this Saturday night will feature togas, beer and the flick, Old School. "Drinking beer and watching movies is old-school fun, so in honor of Fremont Oktoberfest, we will be setting up a beer and wine garden at our season finale," says Fremont Outdoor Movies organizer Andrew McMasters. "Feel free to come in an Oktoberfest or Old-School costume, but do wear one. The only streakers we want to see are on the movie screen!" Activities begin at 7:45 p.m., and the movie begins at dusk.
September 10th, 2008 by Geeky Swedes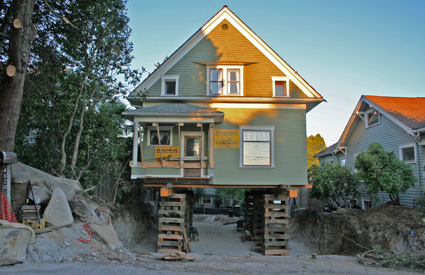 The old home that was moved Sunday morning across Fremont to Evanston St. is now waiting for a foundation and a basement.
September 10th, 2008 by Geeky Swedes
In what's becoming a common sight in the neighborhood, workers have torn down a home on 46th and Evanston to make room for townhomes.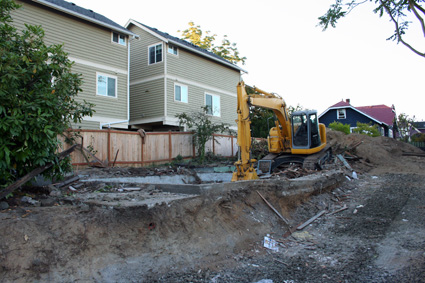 The 3-bedroom townhomes will sell for $459,000 each.
September 10th, 2008 by Geeky Swedes
King County Executive Ron Sims is big Twitter fan, sending out as many as a dozen messages a day, reports the Big Blog. "I intend to use my Twitter to release 'news items' or my thoughts about everyday living," he explains. But we couldn't help but notice in one particular message that Sims spelled Fremont wrong. Twice. The evidence: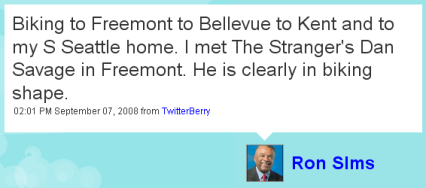 We'll just chalk it up as an innocent typo, after all, he's the first real Twittering politician we've seen. By the way, we noticed this story on our own Fremont Twitter page, which linked us to this post on Seattle Metblogs.
September 10th, 2008 by Geeky Swedes
The chef behind the popular "Anita's Crepes" stand at the Ballard Farmers Market, Anita Ross says she hopes to open her new restaurant on Sept. 18th, if all goes on schedule. Anita's will feature some her favorite creations with a French flair — not just her famous crepes.


Anita's is located on Leary just east of 8th Ave., next to the The Traveler.
September 9th, 2008 by Geeky Swedes
Construction may soon be one step closer at the former Safeway location at Stone Way & 39th Ave, sometimes called "the pit."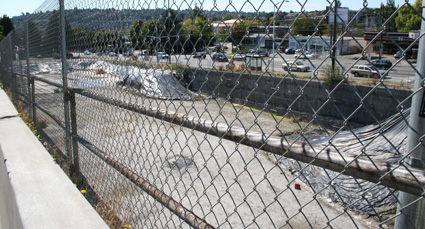 Plans call for a 5-story building with 143 residential units and 7 live/work units to be built on the large lot. Nearly 17,000 square feet in retail space will be at street level and parking for 193 vehicles will be below grade.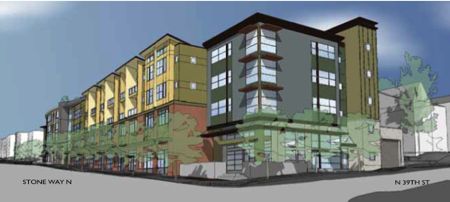 Here's one of the sketches of the development from a design review meeting in May. QFC bought the property back in 1993 and demolished the Safeway several years ago to make way for their grocery store. Earlier this year, Prescott Homes took over the property when QFC pulled out. Whether you're for or against the plans, the city wants to hear from you. There is a community meeting tonight (Tuesday) from 6:30 p.m. to 8 p.m. at the University Heights Community Center (5031 University Way NE).
September 8th, 2008 by Geeky Swedes

Fremont's own Tableau Software, which specializes in displaying data in visually-compelling ways, has just scored $10 million in new financing. The company has 30 job openings to add to its current staff of 75 people. So how ambitious is the company? "We believe Tableau is the next billion-dollar company from Seattle," said CEO Christian Chabot (pictured) a couple years ago.
By the way, another fast-growing Fremont tech company is AdReady, an online advertising services provider. It just expanded its office space on 34th St. Stay tuned to Fremont Universe for ongoing coverage of the neighborhood's thriving technology scene, sometimes called the "Silicon Canal."
September 8th, 2008 by Geeky Swedes
A "pass up" is when a Metro bus is so full, it skips a stop. Or more. Metro drivers reported 640 "pass ups" in May, compared with 443 a year earlier, reports the Times. The busiest? Route 358 up Aurora Ave. N.
September 7th, 2008 by Geeky Swedes
Updated: A little after 2 a.m. Sunday, a house pulled out of its parking spot on Palatine and headed to its new home ten blocks away. Literally.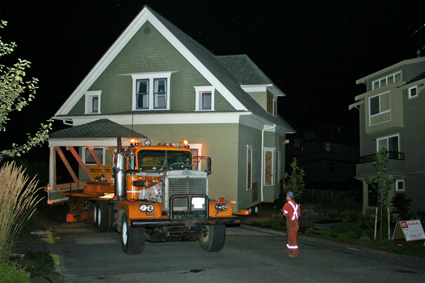 As you might imagine, it was a slow, painstaking process. The truck moved only a couple miles per hour, and it stopped every few feet as crews checked the house, surrounding trees and overhanging wires from every angle.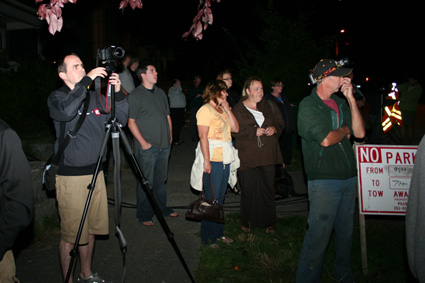 Dozens of neighbors gathered to watch the event.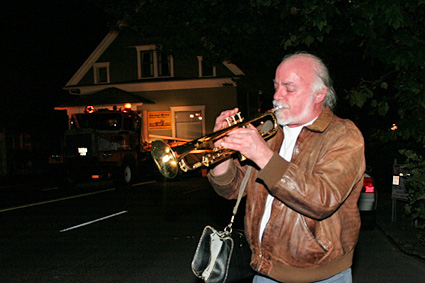 One man even played "The Saints go Marching in" on his trumpet.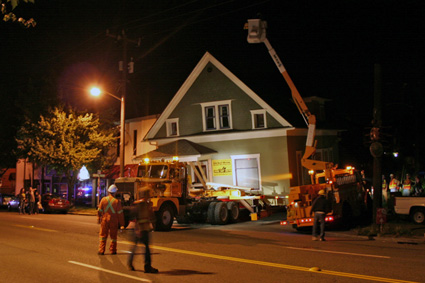 As the home creeped toward intersections, like here on Palatine and 36th St., utility crews removed overhanging wires. In some cases, they had to hold up the wires while the house squeezed underneath.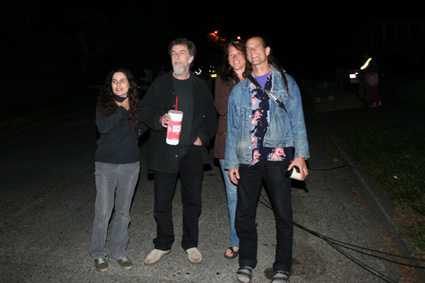 New owner Steven Flynn (on the right) watched as the house made its way up steep Phinney Ave. to its new parking spot at 4020 Evanston. "It all started with the rug in my dining room," he jokes. "One thing led to another." Flynn said he was growing tired of his small, flimsy house when he saw the two-story home on Palatine. It was scheduled for demolition, but Flynn worked fast to line up the arrangements to buy the home and move it to his property.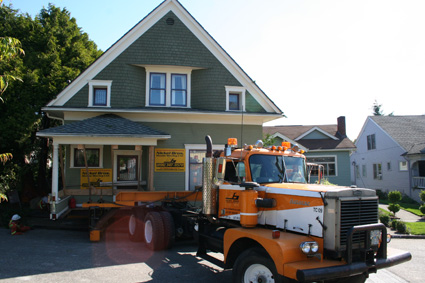 While the move was scheduled to be completed at 7 a.m., crews were just backing the house into its new lot at 11 a.m.


The transport took longer than expected, as the house's height combined with steep streets had line crews scrambling at every intersection. When asked if this would cost him a lot more, Flynn replied, "Yes, yes it does," before running over to help crews move a board into position.


It was also a little tricky backing the home down the incline into the lot.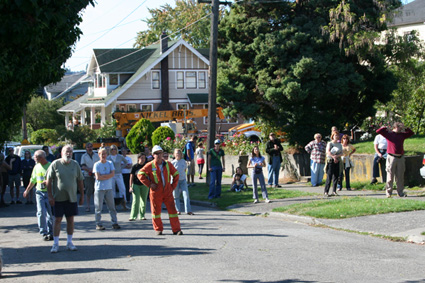 But the house's new neighbors were happy to see the new addition. "I'm glad you saved that old house," one woman told Flynn. An amazing thing to watch.
Update: Fremont Universe reader David has video. Thanks David!
September 6th, 2008 by Geeky Swedes
After planning to close by Labor Day, Asteroid Cafe is still open with a new owner on the way. All the details have yet to be ironed out, but current owner Marlin Hathaway hopes to finalize the sale by October. In the meantime, Asteroid is open with new hours: 5 to 10 p.m. Wednesdays though Sundays.
September 4th, 2008 by Geeky Swedes
The house on Palatine that's moving to a new lot a few blocks away is jacked up and ready to go. You may remember that musician Steven Flynn swooped in at the last moment to save the home from demolition crews. He worked with the developers to hatch a plan to move it ten blocks away.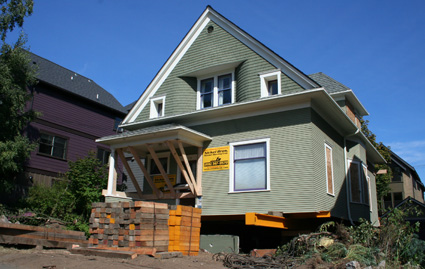 Crews are scheduled to move the home at 2 a.m. this Sunday, and we'll have coverage of the big event right here on Fremont Universe.
September 3rd, 2008 by Geeky Swedes
We wrote a couple weeks ago about the city's proposal to install pay parking stations all around the neighborhood, and now there's a new site called KeepFremontFree.com that opposes the move. So far, 250 people have signed the online petition. "Let's deal proactively and creatively with transportation issues," urges the site, which is promoted by the Fremont Chamber of Commerce. "More bike racks. Create opportunities to plug in electric cars. Develop better public transportation options and partnerships. And lots of other possibilities. Fremont has always been on the cutting edge and is ready to work with the city to make it happen." (Thanks Sue for the link!)
The city's deadline for feedback is October 3rd. More details here.
September 2nd, 2008 by Geeky Swedes
Show Pony has just opened in a cozy space on 36th St.


The owner used to own Olivine in Ballard before she moved to Fremont.


And now Horseshoe, a boutique on 35th St., is planning to close down and move to Ballard. When it's owner, Jill Renae Anderson, heard that Olivine was closing, she jumped at the chance to move into the larger space. She plans to close the Fremont shop at the end of the month and open in Ballard in October.
Update: While Show Pony appeared to be open when we went by on Labor Day, the website and voicemail both say the boutique will open on the 13th.
September 1st, 2008 by Geeky Swedes
A new sign has appeared right in front of Peet's Coffee.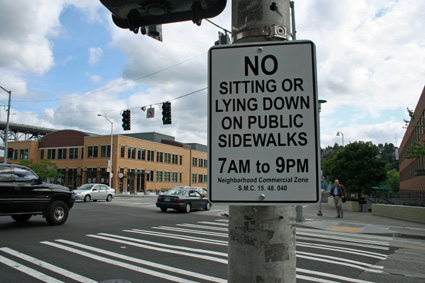 It refers to this city law, which states: "No person shall sit or lie down upon a public sidewalk, or upon a blanket, chair, stool, or any other object placed upon a public sidewalk, during the hours between 7 a.m. and 9 p.m." Don't worry, exceptions include waiting for the bus and medical emergencies.